What is a step through bike?
A step through bike frame has a very low or no top tube, allowing for simple mounting and dismounting as well as a pleasant, relaxed upright riding position. This design was originally created to accommodate female riders and the more restricting clothing of the time, such as long, narrow skirts or dresses. Ideas about "gender-specific" frames have developed as styles, attitudes, and demands of all types of riders have changed. A bike with a step thru bike frame can be enjoyed by everyone! However, cyclists who carry goods, ride in more formal or inflexible apparel, or bike routes with many stops can benefit from this design.
Step thru vs step over bike
The style is the only distinction between the step over and the step thru bike. In terms of dimensions, battery, speed, and components, the two models are nearly identical.
Step thru bike
Step through bike has a lower frame and a lower stepping platform than ordinary cycles.
Advantage:
Perfect for riders who wearing dresses or skirts
They're ideal for folks who have merchandise to transport in city traffic.
They're easy to maneuverability
You don't have to work up a sweat to get on and off the bike.
Disadvantage:
Step through electric bikes are more weight than traditional Step-Over frame bikes.
Step thru bike is not suitable for hilly terrains.
Step over bike
The step-over frame is the original modern bike frame design. The main and back Triangles of the frame are commonly referred to as a diamond frame.
Advantage:
You can get the step-over bike is longevity
Step-over bikes are designed to handle a wide range of terrain.
Disadvantage:
Customization of these bikes is very expensive
While the frame is designed to handle a variety of terrain, it is not intended for use in extreme situations.
They are only suitable for riders that are light to medium in weight.
The best step thru bike
Best Budget: Aventon Pace 350 Stepper Electric Bike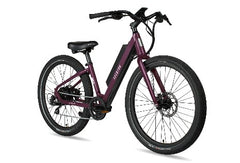 The Aventon Pace includes rims from Kenda, disc brakes from Tektro, and a Shimano drivetrain. It reaches up to 20 miles per hour and five levels of e-assist offer many pedaling options. Range is 25-40km, 36v. The bike is available in two sizes, so you can choose based on your height.
It's a basic offering, without integrated lights and fenders. However, it will work well for those looking to get around town on a simple, well-made electric bike at an affordable price.
Best for urban commuting: charge the city electric bike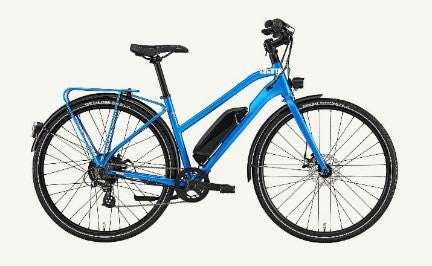 In the thoughts of cycling lovers Cannondale and Schwinn, the City step through electric bike was developed for city life and storage.
Commuting or doing errands is made easier with tough Goodyear tires, five degrees of pedal assist, and a push button throttle. When you're done, the lightweight frame and folding handlebar are for storage.
Ribble AL e - Lightweight hybrid step through ebike
The AL e Step through bike is a thoroughly modern version of a traditional design and opens up a whole world of possibilities for all riders. The AL e Step thru bike was developed as a truly versatile e-bike that can handle both the restlessness of daily commuting and weekend adventures. Not only is it stylish and lightweight, but it's also incredibly practical. The light alloy frame with full carbon fork, SRAM NX 1 x 11 group and Schwalbe G-One tires ensure a lively and responsive ride while maintaining the comfort aspect.
The new AL e step through bike is popular with riders of all ages, skills and genders. It's such a versatile design that it's just as much at home as a daily commuter or weekend recreational bike. Another use would be as a delivery bike. There are increasing opportunities for cyclists to make an income from their bikes with companies like Ubereats, Deliveroo and Stuart.
Specialized Turbo Vado 3.0 Step Through bike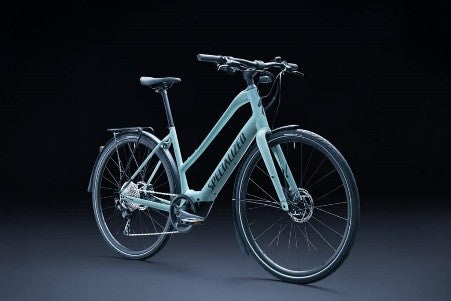 The Vado SL from Specialized has so far been extremely light with a diamond frame weighing less than 15 kilograms, but is also equipped with the relatively weak SL1.1 motor. The most expensive version of the new Step through bike model also comes with the Future Shock System, but does not implement carelessness as rigorously as the Como SL. Instead of the hub gear, you are on the road here on the efficient SLX groupset with twelve or ten gears, which is suitable for everyday use - depending on the model class.
The Vado SL Step thru bike with its innovative suspension is a bit more comfortable and still looks a bit sportier due to its seating position and the frame design as a whole. Here, too, attention was paid to quality and the Shimano SLX gearshift also scores points in terms of workmanship - albeit with certain maintenance intervals that are usual for chain drives.
Rad City Step-Thru 3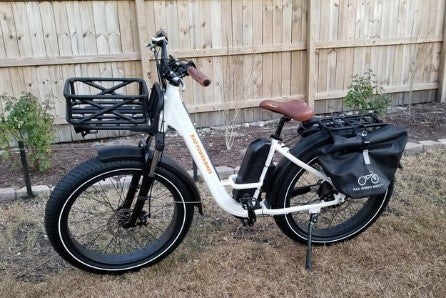 The Step-Thru 3 is designed for comfort. Its flat design and upright frame reduce the distance between you and the handlebars, making it a comfortable cruiser. It offers a semi-twist grip and a 1 x 7-speed drive for more torque on climbs. The puncture-proof Step-Thru 3 tires are reinforced with Kenda K-Shield tire liners. A luggage rack makes it easier to transport your cargo - platforms, baskets and even some child seats can be attached.
The display has a backlit LCD monitor with speedometer, odometer, trip meter, watt meter and charge indicator. Bright LED headlights ensure good visibility, while taillights offer continuous or flashing modes for braking, a high-resolution cadence sensor that helps the motor react quickly to changes in pedal movement. You can override it to full throttle at any time.
Lectric XP Step-Thru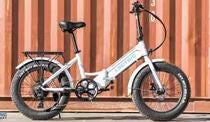 Lectric eBikes launched two new versions of its popular step through electric bike, and we were excited to chug around town for a few days with an Lectric eBikes XP Step-Thru 2.0 prototype. It took them a couple of weeks to get through the manufacturing and delivery hell that goes with any new product launch and hooked us up with a new Lectric XP 2.0 for a more in-depth review.
The new bike is packed with a number of new features that Lectric's dedicated riders have been looking for, including a suspension fork, increased load capacity of the included luggage rack, wider handlebars and slightly smaller 20 x 3 tires.
Electra – Townie GO! 7D Step Thru bike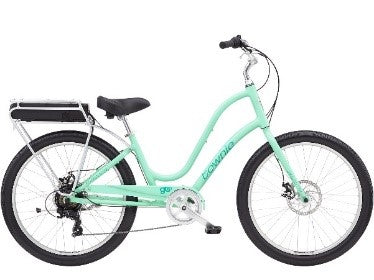 The curved frame shape of the Townie by Electra not only looks fantastic, but also enables an ergonomically optimal posture when cycling. Compared to conventional bikes, the bottom bracket on the Electra Townie is further forward, which means that the seat tube angle is flatter. In this way, an upright sitting position is achieved with a slightly forward inclined step. Also, while seated, you can put your feet flat on the floor when you stop. The Flat Food Technology developed by Electra is supposed to relieve the back and relieve tension. The stress on the wrists is also reduced thanks to the modern frame technology.
The wheels for adults with their 26 inch tires is very flexible. High quality brakes guarantee safety in road traffic. The modern city bikes from Electra are available with gears in various designs. Mudguards and the sophisticated lighting system protect you in the dark and bad weather conditions. The LED lighting, driven by a hub dynamo, lights up the way forward and you are very easy to see for other road users.
Stromer– ST1 Comfort: Omni C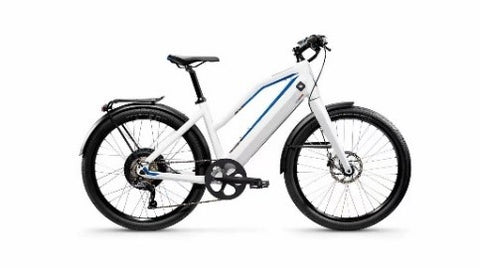 S-Pedelec specialist Stromer has adapted to the different needs of cyclists and commuters and is now offering the pedelec variant as a suitable alternative to its new ST1X, which can go up to 45 km / h. With features such as full networking via smartphone, built-in theft protection with GPS against thieves and a slim design with internal cables, the pedelec is just as stylish as all premium models. 17, 20inch and 22 inch in the sport version and a comfort version in 17 inch. Every frame size available in the colors orange, white, charcoal
The battery and motor fit elegantly into the overall picture of this city runabout and the on-board computer with touch function is discreetly integrated in the top tube, which shows the speed, level of assistance or battery level.
Step-through bikes are extremely adaptable and advantageous to all riders. They're simple to get in and out of, and they have little impact on the bike's overall performance. Which step thru bike from our article piqued your interest the most? Do you have any questions about step-through electric bikes or the models we examined? Let us know what you think in the comments area below!
Leave a comment